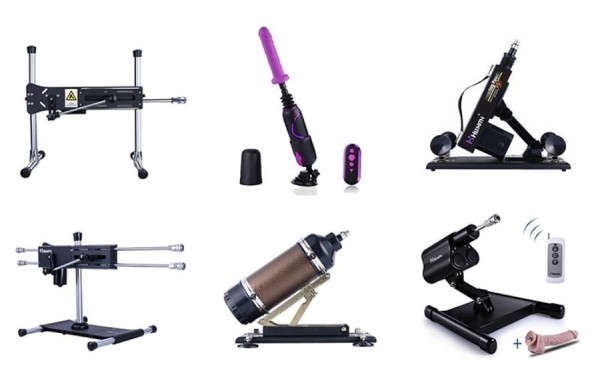 Hismith Complete Buying Guide to Sex Machines: Side-by-Side Comparison
If you currently own sex toys but just feel like they just aren't satisfying you anymore, you might consider buying a sex machine for a completely new experience. Maybe you have thought about it before but had questions you wanted answered first. It can be a little intimidating when faced with so many options at your disposal. This guide will give you some information and explain the benefits to owning them to help you decide if a sex machine is the right choice to fulfill your needs. As you take the time to read this guide, you'll discover the answers to all the questions you've wanted to ask.
What is a Sex Machine?
A sex machine is an automated or mechanical device used for sexual pleasure. It simulates sexual activity for a solo participant. The machine is motor-driven to last as long as you do without giving out. It is essentially a dildo attached to a rotating shaft. The device can be either penetrative or extractive, and for men or women.
Like some other types of sexual devices, some have attachments that can be used for several devices and multiple uses. They are interchangeable and will work with many of your favorite sex toys for anal or vaginal sex or male masturbation.
Side-by-Side Comparison of Sex Machines at Hismith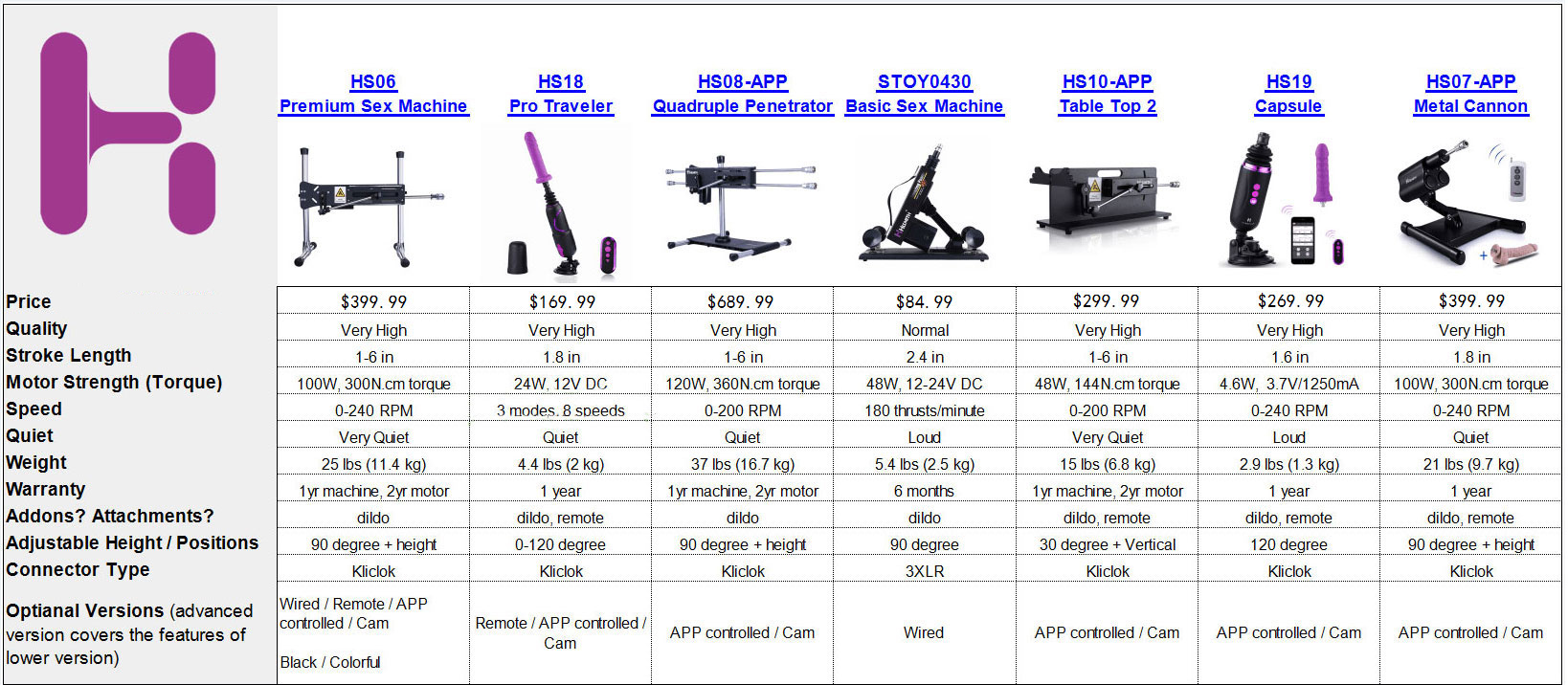 What Are The Best Fucking Sex Machines Out There?
If you have never shopped for a sex machine before, let me introduce you to our best machines.
Overall:
Motor Strength (Torque): 100W, 300N.cm torque | Stroke Length: 1.2-6" (3-15 cm) | Speed: 0-240 RPM | Weight: 25 lbs (11.4 kg) | Warranty: 1yr machine, 2yr motor | Adjustable Height / Positions: 30 degree + height | Additional gift: 7.9" dildo + portable bag
Key Features:
Sturdy Foundation: It has solid construction with over 4kg of weight to make it sturdy and capable of sitting firmly on the floor.
Powerful: The machine motor is durable and powerful, as wild as you can imagine, and never stops because of resistance. Core strength takes you to the highest point.
Very Quiet: Go ahead and enjoy your private time because the noise of the machine is below 50 dB and is very quiet. The neighbors aren't likely to hear this running.
Long Stroke Length: This machine has an adjustable stroke length from 1.2 to 6 inches (3 to 15 cm), and can be easily adjusted with a screw knob.
Angle and Height Adjustable: You can adjust the angle and height for your favorite positions to hit just the right spot. The machine is easy to assemble, use, and store away for later.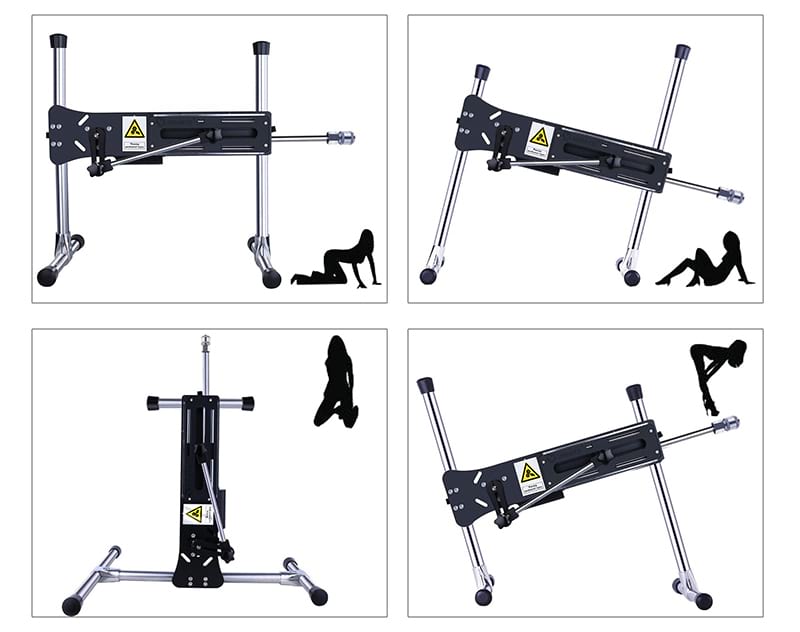 Precise Speed Controller: The speed of hismith premium sex machine ranges from 0 to 240 RPM. It has a remote control version HS06-RM which is #$40 more than the wired control version.
Extras: It comes with a 8" realistic medical grade silicone dildo which is and a portable bag which are just suitable for the machine.
More add-ons available: HS06 is of eight-square Kliclok connecting system which is updated from Quick Air connector, to avoid rotation when working. Hismith also design, manufacture and sell massive attachments for machines, dildos in different size and shape, fleshlights for male masturbation, extension rods for better use and adapters for being compatible with other types of dildos.
This video will show how it works:
Advantage:
Powerful motor that satisfies
The 6" stroke length offers real experience
Adjustable height to meet your favorite sex position
High quality, durable material
Disadvantage:
A bit more expensive than some but well worth it
Although it comes with a bag it is too heavy to tote around
Updated Versions:
---
APP Control Version: HS06-APP $499.99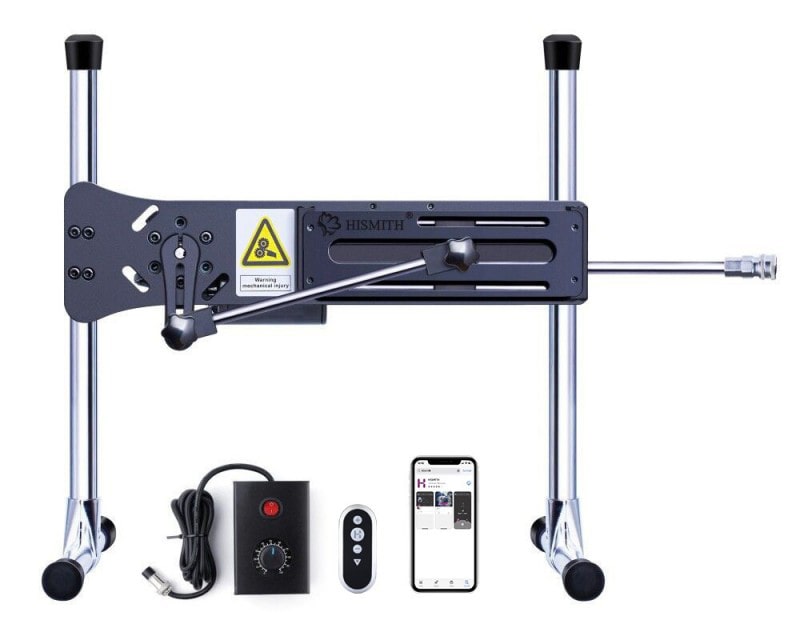 Different Color Version: <Luxury Golden, Noble Purple, Elgenece Red, Venecian Blue $519.99
Overall:
Motor Strength (Torque): 48W, 144N.cm torque | Stroke Length: 1.2-6" (3-15 cm) | Speed: 0-200 RPM | Weight: 15 lbs(6.8 kg) | Warranty: 1yr machine, 2yr motor | Adjustable Height / Positions: 30 degree + vertical | Additional gift: 7.1" dildo + portable bag
Key Features:
Quality and solid: Made of aluminum alloy material and stainless steel, sturdy yet not over weight, very easy to carry around with a portable bag.
Ajustable stroke length: Hismith's exclusive infinity stroke settings allow you to easily adjust your sex machine's stroke depth from 1.2 to 6 inches.
Powerful and quiet: The strong motor with 48W maximum output provides up to 200 strokes per minute and makes noise less than 50dB.
APP Controlled: Able to follow built-in or DIY modes on Hismith APP. Another mobile can control it with Internet no matter how far apart you are.
Very easy to use: Not any tools needed to assemble it, adjust the angle or stroke length or install/uninstall accessories.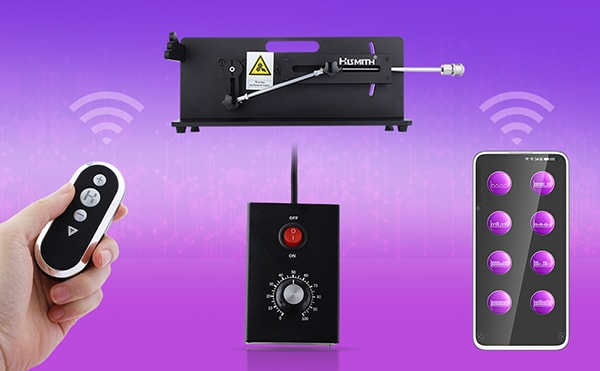 This video will show how it works:

Overall:
Motor Strength (Torque): 4.6W | Stroke Length: 1.6" (4 cm) | Speed: 0-240 RPM | Weight: 2.9 lbs(1.3 kg) | Warranty: 1 year | Adjustable Height / Positions: 120 degree | Additional gift: 6" dildo + portable bag
Key Features:
Compact but powerful: Perfect size for handhold and carry, plus provides 370 RPM powerful penetration, spice your sexual life up.
Rechargeable: Lasts for 60 minutes after 2 hours charging, enjoy the pleasure anytime, anywhere and say goodbye to the troubles of messy cords
Remote and APP controlled: Controlled by the remote or Hismith APP sensitively and precisely, Its control can be shared with others, best sex toys for long distance lovers.
Rich speeds & frequencies: It has 4 built-in models and is waiting for you to set up more programs on Hismith APP. It can run at different speeds when following a program.
Adjustable angle: The adjustable range of angle is 0-120 degree, and it comes with a super strong suction cup so will be suitable for more situations.
Buy without worries: Battery life up to 2 years; 1 year warranty; safe and discreet package to protect your privacy.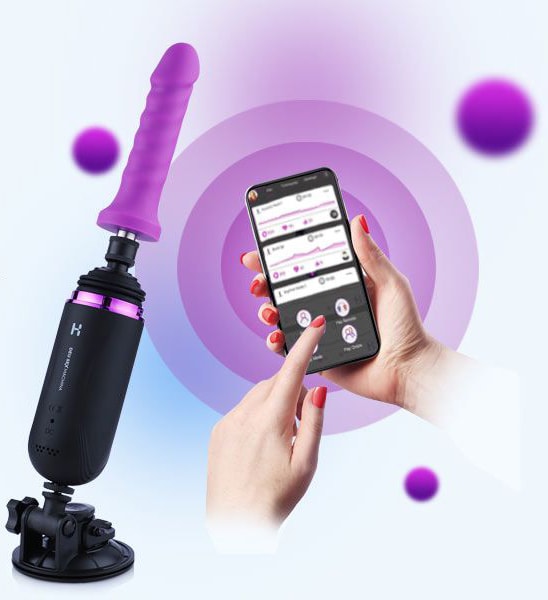 This video will show how it works:

Overall:
Motor Strength (Torque): 24W | Stroke Length: 1.8" (4.5 cm) | Speed: 3 Modes, 8 Speeds | Weight: 4.4 lbs (2 kg) | Warranty: 1 year | Adjustable Height / Positions: 120 degree | Additional gift: 7" dildo + portable bag
Key Features:
Hismith Pro Traveler is hands-free with its suction cup being stable on most good surfaces. Floor, solid wooden chair, tables all work great.
At 24W the power produced is not great but good enough for what you need. Powered by 12V/2A DC Supply, it has 3 Speeds and 8 Frequencies and stroking speed of up to 150 times/min.
It comes in a nice little box with a remote control and 6.8" silicone dildo. Pro Traveler is of Hismith original Kliclok connecting system so other Hismith dildos and masturbators will work with it as add-ons.
Adjust the knob to change the angle from 0 to 120 degrees to enjoy more available positions.
Advantage:
High quality and extremely portable
Affordably priced compared to the HS06
Hands-free with strong suction cup and remote control
Versatile and compatible with add-on attachments
Disadvantage:
24W output power, 1.8" stroke length and 150 strokes per minute, it's good for beginners but more experienced users may find it lacking.
This video will show how it works:

#5 - Basic Sex Machine at Low Price: STOY0430 $89.99
Key Features: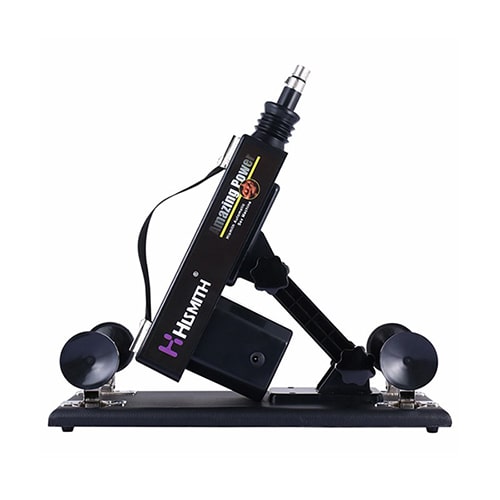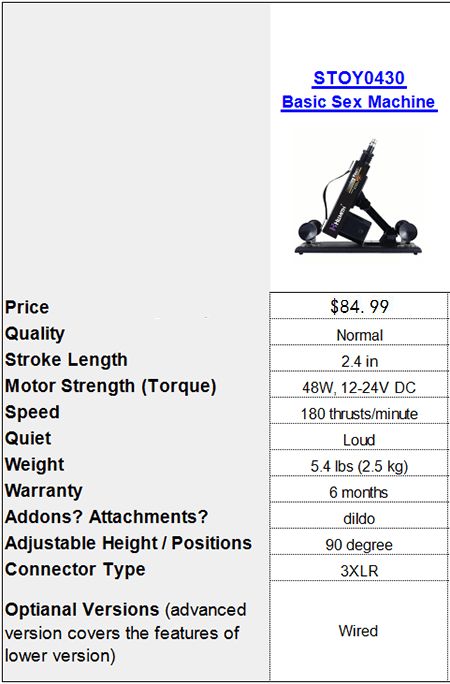 0-48W, 12-24V DC, 180 thrusts/minute, 2.4" (6 cm) stroke length, pretty good performance for beginners and skilled hands.
Budget –priced to be affordable
Adjustable from 0 to 90 degree to allow a variety of sex positions.
Four removable suction cups help it grip surfaces and make it stable.
Hismith also have many replaceable 3XLR attachments - dildos, masturbation cups and adapters - compatible with sex machines of 3XLR connecting system.
Disadvantage:
This machine is quite noisy at full speed.
It's not on the same level with other models, but it does have a 1 – year warranty. Stability may be compromised when using at full speed.
Hismith 3XLR attachments are mostly made of PVC instead of silicone so you'd better use a condom for insertion. Besides, you can also use premium silicone dildos if having a 3XLR-to-Kliclok adapter or suction cup dildo holder.
This video will show how it works:

#6 - Quadruple Penetration Fucking Machine: HS08-APP $699.99
Key Features:
---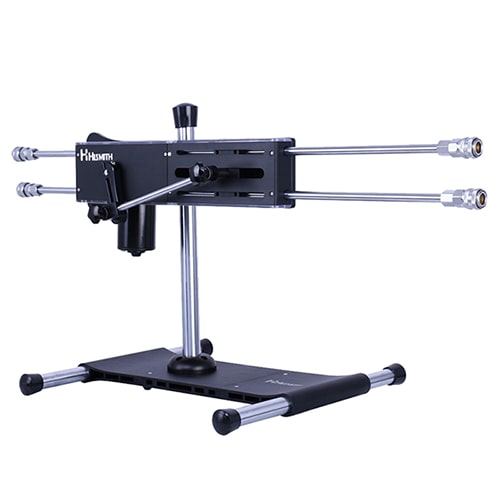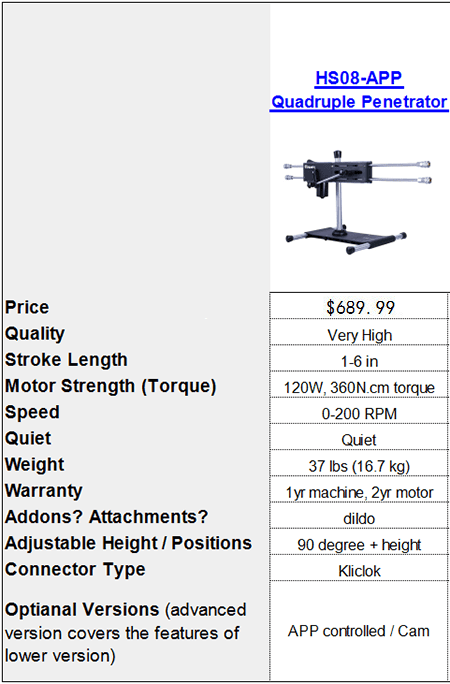 This model is a premium version designed for two people for double penetration. It can be used in the vagina or anus or both. It's the perfect toy for couples to experience pleasure together. For use by women and men - Hismith supply male masturbation cup and anal dilos for gentleman.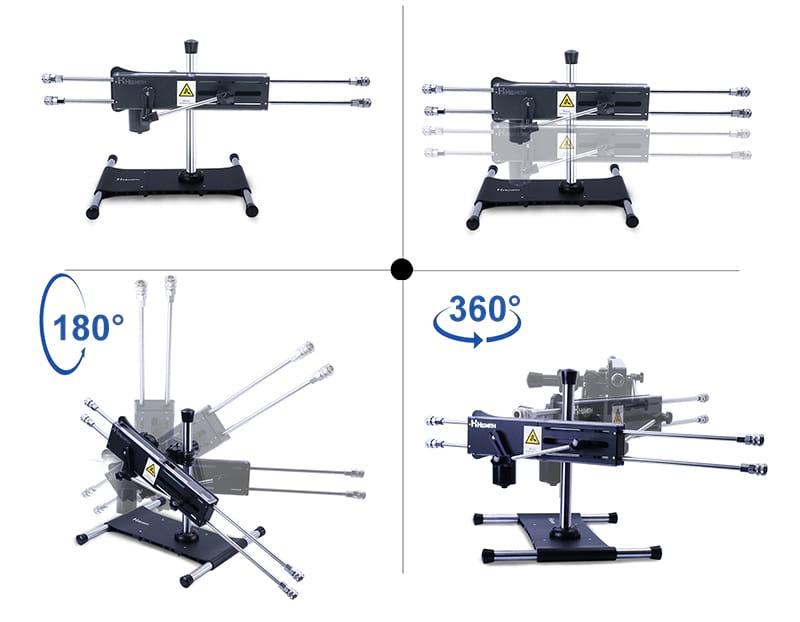 The updated motor is more powerful than HS06's motor. The Hismith Quadruple Penetrator can hold up to 4 dildos simultaneously. It is strong and stable.
Customizable modes for more options, 1-0(solo play), 1-1, 2-2 and etc..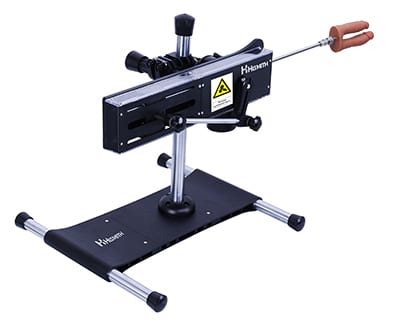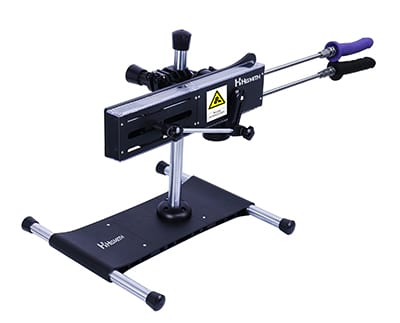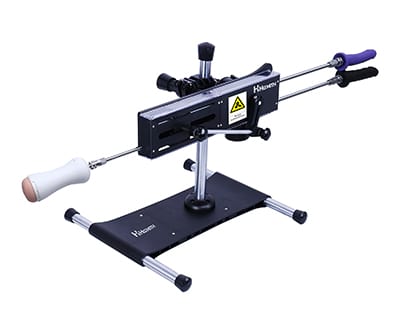 Comparison between HS06 and HS08: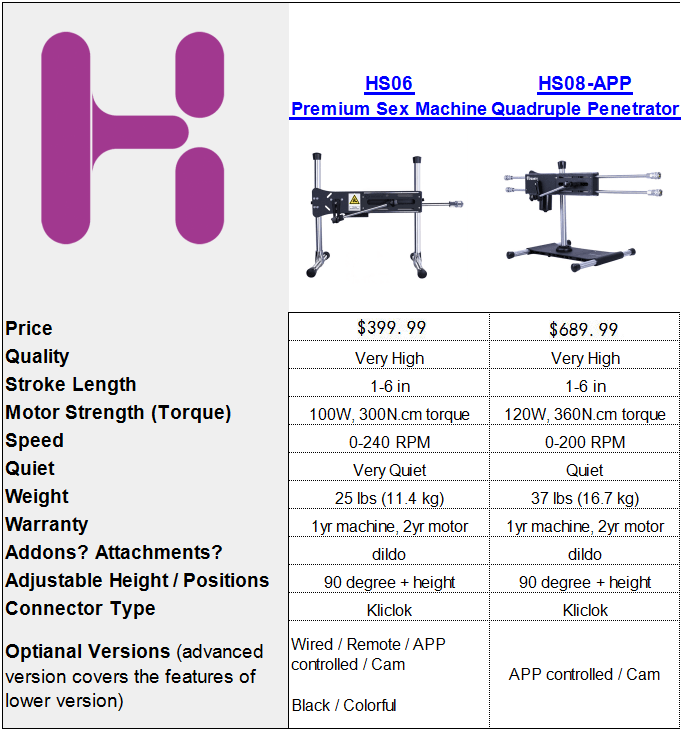 #7 - Metal Cannon, Remote Control Thrusting Sex Machine: HS07-APP $399.99
This model costs the same amount of money as the HS06 but doesn't perform the same.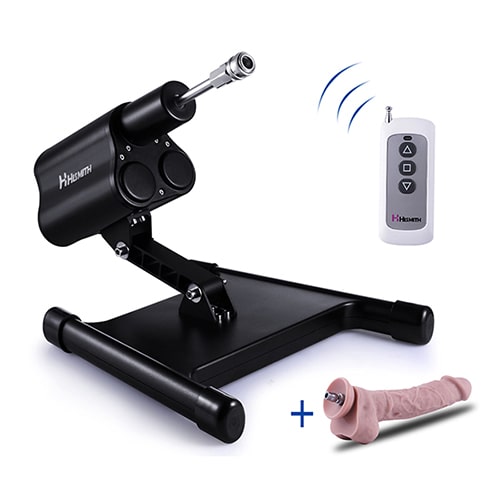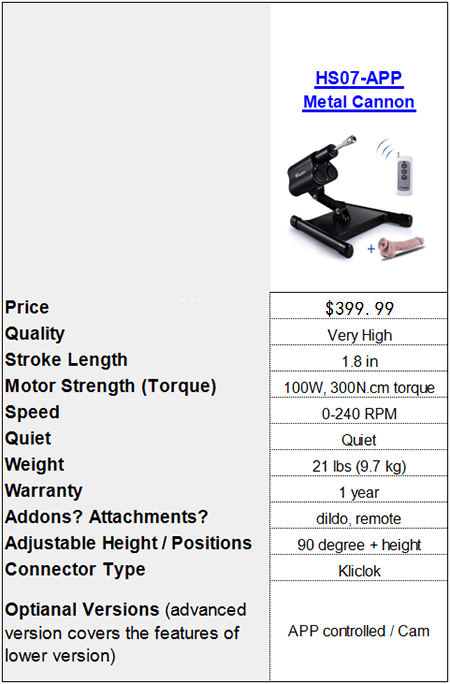 The stroke length is not long enough and it is difficult to store. It can be adjusted from 0 to 90 degree but the range of height adjustment is not very satisfying.
With a lower center of gravity it is more stable and powerful as a Hismith Premium sex machine.
Cannon is of Quick Air connector, fits to quick air attachments directly and Kliclok attachments indirectly with an adapter.
What to Consider When Buying a Sex Machine
DIY vs. Ready to Use?
When you're shopping for a sex machine, you'll soon notice that many models require building before you can use them. If you enjoy putting stuff together, a DIY model could suit you well. Click here to buy Hismith DIY sex machine bundle with motor, controller and power box.
However, for other people, setup might be an extra hassle. So, before you choose a model, make sure it's the right kind!
Build and Material Quality
Anything you use in delicate areas of the body should be safe and well-made. Common materials used are non-porous silicone to prevent bacteria. This type of material is good for insertable toys because it is easy to clean and resists germs.
The working parts of the machine should be made of high-quality material that is sturdy and durable. A good way to get an idea of what to look for is to read the reviews of some models. You'll want to choose something that is durable and will last a few years because these machines are not cheap.
Attachment Options
If you like versatility, look for machines that are compatible with add-ons or attachments. Some machines have a piston-like device that allows you to various attachments with, offering greater variety of experiences.
Other options like saddle sex machines have a rider's seat as a stationary, non-removable part of the design.
Motor and Thrusting Power
Each machine is designed with different specs and capabilities. Before choosing a particular product, look at the depth capability and style design. Does it vibrate and how many settings does it have? This is all subject to your own preferences. Some may like more settings and options, while others may prefer a simpler model with fewer settings.
Budget and Cost
When it comes to sex machines, they are definitely the most expensive toys you can buy. While there are cheap models that may have fewer options, you may be more open to paying a bit more for something that will last you a while and does what you need it to do.
Discretion and Storage
Depending on the type of machine you want to buy, have you thought about where you will keep it? Do you have room in a closet or under the bed to tuck it away when your mother visits?
Return Policy
Anytime you are making a big purchase or investing in something important you should know what the company's return policy is. Sometimes things get messed up when ordering online, if you receive the wrong product or it is not up to your expectations can you return it for a refund?
Benefits of Using a Sex Machine
What are the benefits of using a sex machine over just masturbating with your hands or having sex with a partner?
Let's look at a few advantages below:
Sexual Exploration
Masturbation allows you to explore your own sexual desires in a way that is private and will not make you feel anxious or embarrassed. Young women may not have had much experience with sex may feel more inclined to experiment with toys first to experience what orgasm feels like and how to achieve one.
You're in Control
While sex with a partner is great and there's no substitute for it, sometimes you just want to get off without the extra steps that come with actual intercourse.
Sex with your partner is great but sometimes you just want to skip all the little steps to initiating intercourse and just go it alone. Maybe you're tired and just want a quick release of tension so you can fall asleep. This is totally okay. A machine allows you this convenience any time you want it.
Improved Satisfaction
As I mentioned before, when you use toys by yourself, you'll gain a greater understanding of what brings you the most pleasure.
For someone entering a sexual relationship or even just discovering their own sexuality for the first time, having toys and accessories gives the opportunity to find out what you like and what brings you pleasure. Having this intimate knowledge of yourself will improve sexual relationships with partners because you can communicate exactly what you need and show them if necessary.
Less Risk
There are those people who feel they don't have time for relationships, their jobs make it hard to meet people or they spend a lot of time on the road. A sex machine fills a need for them without any risks such as getting pregnant, being rejected, or getting an STD. Some people prefer being alone and this works very well for them.
Makes Long Distance Easier
Anyone who has ever been in a long-distance relationship will tell you they are difficult. But they don't have to be lonely. You have more options with a sex machine and can still enjoy thrilling sexual adventures even if your partner is miles away.
This opens up a whole world of possibilities with a Smartphone and a Skype subscription. You can do video sessions or record one and send it to them to watch later. Your relationship doesn't have to get boring just because you're not in the same area.
Practice for Sexual Encounters
For young women (and men) who have never had a sexual relationship before this is a great option to practice before attempting the real thing. Your first time can be somewhat awkward with a lot of fumbling to find the right spot or the right amount of pressure. This is one way to remove that awkwardness by getting a little practice at finding out what feels good to you and learning how your body responds.
Before buying any type of device or appliance there are things you should take into consideration.
Tips on How to Use a Sex Machine:
Use Lubes
Fucking machines are popular because they work faster than a human being and don't tire out. A fucking machine can operate with a speed of up to four strokes in one second. It is important to remember that friction causes burns and irritations so just like in your car, be sure to use lubricant.
Focus The Mind
When riding your virtual dick, you will have to focus your mind on the intense simulation that you will be feeling. This is because fucking machines are made to give you a sensation that you have never felt before. To ensure that you enjoy your session, you will have to focus. You can try blindfolding yourself in order to focus.
Use Stable Surfaces
Always use the machine on a flat, level surface for stability. Due to the rotating movement, it may "walk" on wooden floors. Has a better grip on carpeted areas.
Remember the Angle
When you find the right angles for the positions, put marks on the stands for quicker future setup.
Hygiene is Important
Remember to clean your toys and your machine after every use. Germs and bacteria can cause a nasty infection so always clean up after every session.
Keep Calm
The first few times you use your new machine it may be hard to stay calm and enjoy the ride. Just remember that this is a device with moving parts so be careful and don't move around too much or move suddenly. Moving too much can cause the dildo to slip and it may become uncomfortable.
Size is Everything
When choosing a sex machine, be sure to size it correctly. Never choose a larger one than you're used to. It may be tempting but…just don't. Make sure the dildo on your fucking machine is just the right size for enjoyment. If the one you choose is too large you won't enjoy it and you won't have anything smaller to use on it unless you get one with add-ons.